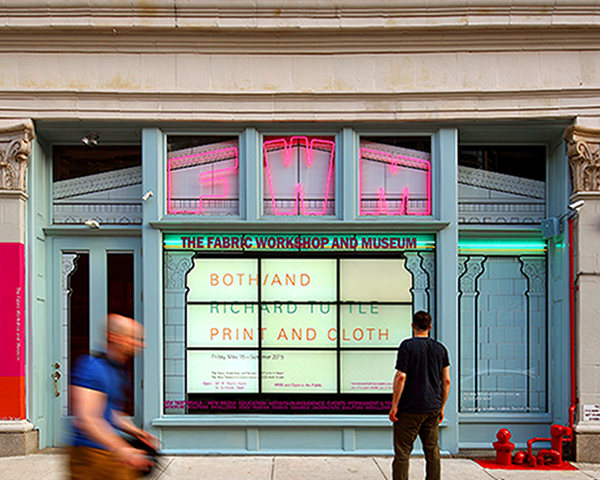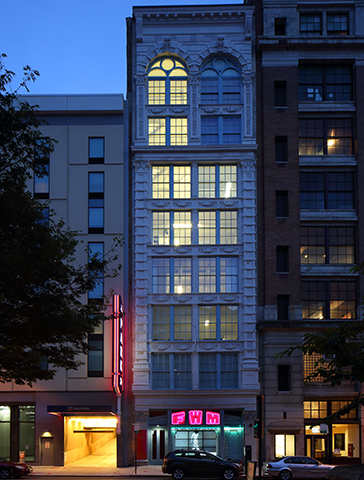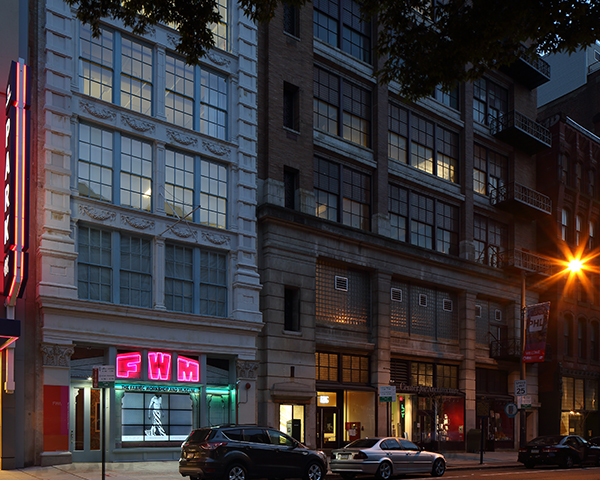 Since the 1970s, the Fabric Workshop and Museum (FWM) has been a world-renowned gallery and studio for artists working in all media.
After relocating to an historic building adjacent to the Philadelphia Convention Center and the Reading Terminal Market, FWM retained us to create a permanent storefront display.  But for an arts institution offering ever-changing exhibitions, as well as public events and a museum shop, how could any "permanent" display adequately serve?  Moreover, the FWM also operates several other storefronts along the same block; the institution wanted a display that somehow helped to identify and unite them all.
VSBA's solution was to create a multimedia installation incorporating state-of-the-art display technology, static signage, colorful lighting, and more.  To enable the most flexibility for changing content, we filled the main museum building's windows with an array of high-definition digital displays capable of showing video, text, still images, and ornamentation on an huge scale.  The display's web-based programming interface allows FWM artist-collaborators around the world to design the window.
As a static counterpoint, we framed the displays with Sintra panels depicting Classical Greek columns and pediment — riffing on the historic building's Corinthian elements.  (A portion of the signage even playfully extends into the main entrance's doorway — so visitors symbolically pull apart and step through the Classical façade.)
We also incorporated two bright stripes of neon across the top of the window, with bright pink vinyl lettering at top and bottom identifying the institution.  To unite the other storefronts, the Greek order and neon were extended from window to window, while leaving ample space for changing art and merchandise displays.
VSBA has created the new public face of the Fabric Workshop — at once contextual and contemporary — bold, nuanced, and playful.  The new storefront has brought an important new focus and excitement to the Museum.
VSBA, LLC / Venturi, Scott Brown and Associates, Inc.

Philadelphia, PA





2014



Dan McCoubrey (principal-in-charge); Jeremy Tenenbaum (project manager and designer)