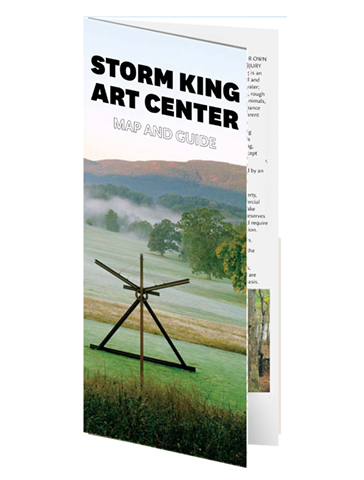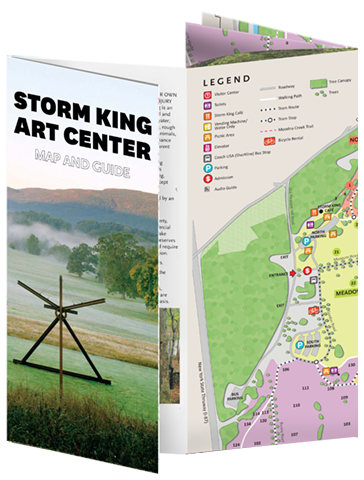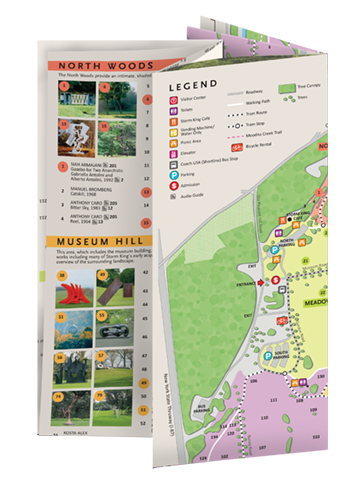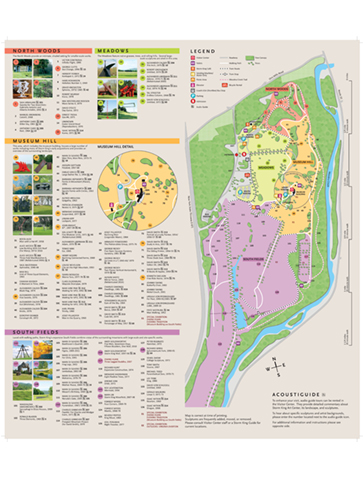 Storm King Art Center is a unique outdoor museum — an expansive series of lawns, trails, fields, groves, and woodlands framed by the Hudson Highlands and set with monumental modern sculptures by notable artists.  Each artwork's context is defined by both immediate and distant landscapes; the ever-changing visitor experience encompasses the seasons and weather, as well as the growing collection.  The Center is a public, non-profit, and educational institution.
In addition to our conceptual planning for the institution, we were asked to design a new visitor map and brochure as a guide to the grounds' sculptures, facilities, and natural features.  The map reflects conceptual reorganization of Storm King's precincts, in accord with our planning.
Along with a map of the grounds, our brochure collects in one place different bits of information important to visitors, as well as news about special exhibitions and events at Storm King.  The map's printed on recycled-content paper that's' resistant to rain, helping it to be long-lasting and sustainable.
Venturi, Scott Brown and Associates, Inc. / VSBA, LLC

Mountainville, NY





2009+



Dan McCoubrey (principal); Jessica Tidd (project manager)